Triple Treat Tonic – The Award-Winning Natural Detangler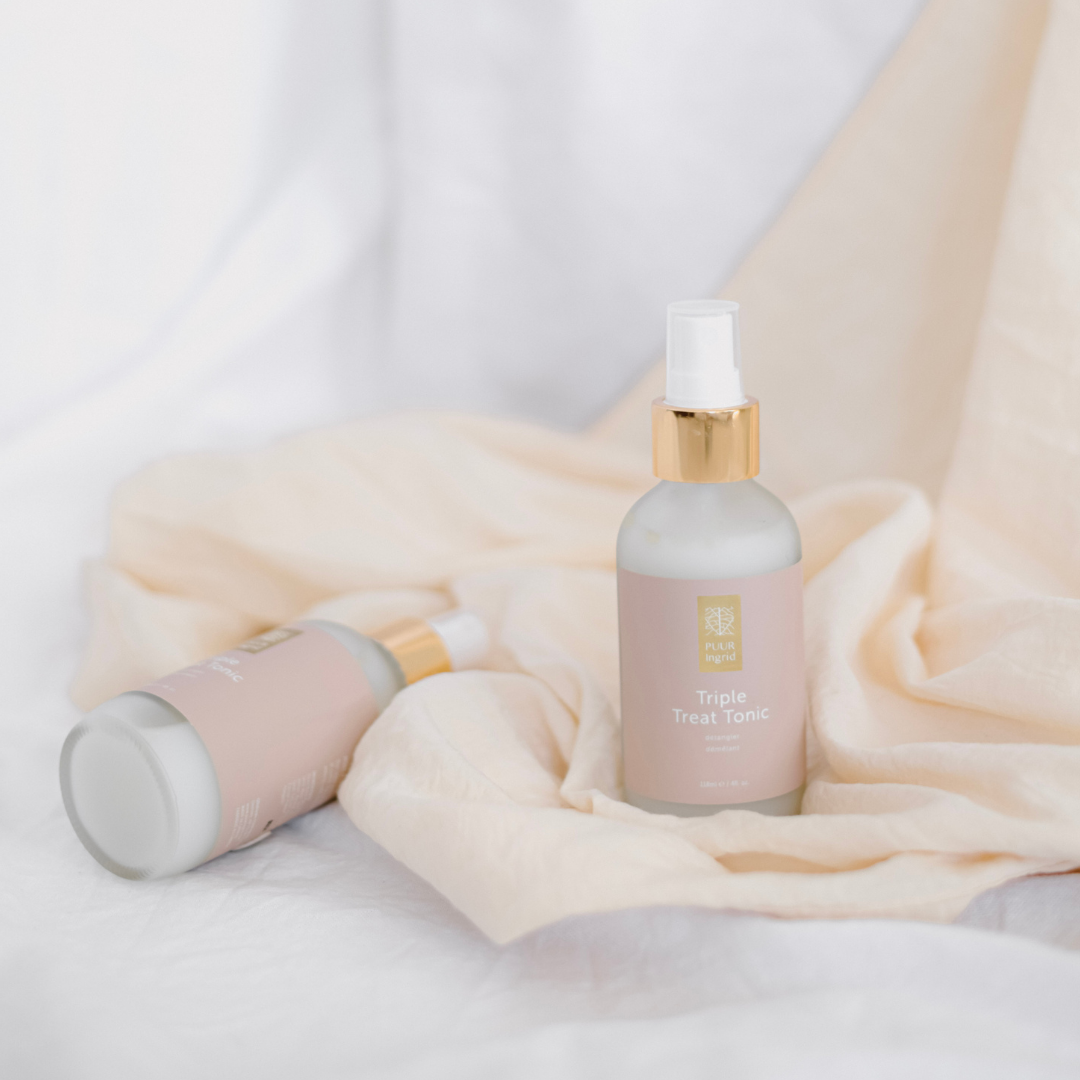 Our Triple Treat Tonic has just become a finalist in the 2021 Clean Beauty Award from CertClean! To celebrate, we thought it would be a great idea to help you learn more about the benefits of natural detanglers and how the Triple Treat Tonic keeps it real, starting with the top-quality ingredients. Our goal is always to keep your hair healthy and beautiful without compromising on quality or wellness. So keep reading to learn more!
Why Natural Detanglers Are Better For You
Many of the detanglers and other hair care products that you find at big boxes and convenience stores are filled with excessive ingredients that can irritate your skin, scalp and even cause other adverse health effects. One of the biggest culprits? Fragrance! Those super-scented hair products can dry out your strands and cause allergic reactions because of the chemical used to create them.
Natural detanglers rely on high-quality ingredients that are free from parabens, sulfates, and other unnatural ingredients that can cause various forms of irritation and leave your hair looking worse than before you used it. Plus, natural detanglers use natural ingredients to add a heavenly scent to your hair!
What You Need From A Detangler
Detanglers should soother your hair without weighing it down. You want smooth and shiny strands that don't look greasy or limp. Finding the perfect balance can be quite the challenge. Luckily our Triple Treat Tonic is the goldilocks of natural hair detanglers – not too heavy, not too tangled, just right.
Aside from detangling the ends and keeping your hair looking healthy and gorgeous, your detangler should also keep your scalp happy. Naturally sourced ingredients, such as essential oils and plant products, can help promote a healthier scalp without irritation. In addition, your natural detangler should leave your hair feeling soft, weightless, and lustrous from your roots to your ends.
Get To Know The Triple Treat Tonic
Aside from ensuring that our products are made with all-natural ingredients, we also make it a priority to look out for our furry friends while also creating products that are great for those with sensitive skin and allergies. So, there is no need to worry when using our products.
Our Triple Treat Tonic is:

100% Natural

Cruelty-Free

Gluten-Free

Nut Free

Vegan

Hypoallergenic

Safe on Color-Treated Hair

Powerful Natural Ingredients
We know that all-natural products get a bad rap for not being as effective, but the Triple Treat Tonic puts that misconception to shame. To detangle, de-frizz, and deeply condition your hair without the use of harmful chemicals, we make our tonic using a blend of aloe juice, essential oils, and Glossyliance.
Essential oils condition while naturally adding beautiful and subtle layers of fragrance. Aloe juice helps to control greasy hair, strengthen your strands, protect against harmful UV rays, and helps itchy scalps while promoting hair growth. It's like a superfood for your hair! In short, the Triple Treat Tonic keeps it all-natural and all good.